THE HEIGHT OF SUCCESS AERIAL LIFT INC. of Milford, Connecticut. The staff of Aerial Lift had extensive experience since 1958 in research, engineering and design of aerial devices. The common goal of safer, more efficient aerial devices. Aerial Lift was constantly striving to provide our customers with the latest in aerial devices and the BEST CUSTOMER SERVICE in the industry 2ND TO NON TO DATE. It was Aerial Lifts relentless effort in pursuit of these goals that assured our customer maximized operating economies. The Company had its beginnings with a single bay garage, a pickup truck and one man's desire to provide only the best service available in the tree care industry.
Tribute to my Mom & Dad & the History of Aerial Lift
Ernest Emil DePiero – Jeannette Mildred & of Our Life /Stories / Business and "Relationships"
Fathers Nickname "Dip" – Known to many as Ernie"
Founder – Aerial Lift Repair 571 Plains Rd Milford CT 06461 (1958)
Ernest was born in Milford Ct on July 6 1934, Died Oct. 3, 2004
Wife – Jeannette M. Frawley DePiero – Married 1955 Children – Brian & Cheryl, Grandchildren Lindsay & Zak, Father Ernesto – Born 1895 Died 1979, Mother Mary – Born 1895 died 1947. Grand Father & Mother –Born (Udine) Cordonouns Italy, Came through Ellis Island in 1921.
"My Dad is the longest running person in the Bucket Truck industry – 54 years with my mom being the first lady straight up in a bucket truck 1952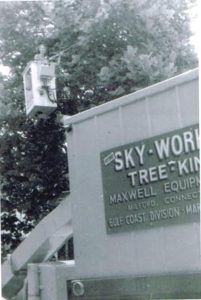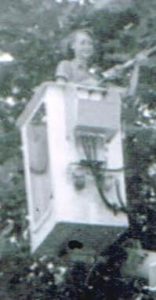 1934
My Dad was born in Milford CT on the 6th day of July 1934. and raised at 587 plains road. As a child he grew up on a small farm, which the house is still in front of Aerial Lift known today. He would tell me that he had a
Shetland pony he would ride and one day was behind it and kicked him in the shin. There was a chip in the bone that lasted and reminded him all the time. His Mother would send him to the chicken coupe and was told to break a raw egg and eat it warm every day. At the age of 6 when he was going into First grade the teachers told him to come back when he spoke English and not Italian. His older sisters Lillian and Anna both taught him and was than allowed into school the next year.
1949
Growing up, the neighbors at Kuchma's Farm would allow him to come over and farm and hunt on the property. George Kuchma better known as skeeter decided to give my Father a nickname at the age of 15 because many people would pronounce it with an "I" instead of "E" DiPiero and that would last his life time "Dip" His Mother Mary which died when my Father was about the age of 13 and the one promise he made to her before her death was to graduate High School and he was the first graduating class in the new Milford High School on the corner of West River St and West Main St. The School closed in approx: 1983 and is know known as the City of Milford Government Center.
1950
My Dad was also interested in Motorcycles, which he called "Machines" and had a variety of them from Harleys to Indians to BSA's.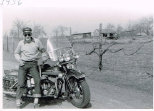 He told me that when he bought his first BSA it was the fastest machine of its time. One day while riding his Harley he as in the Devon area of Milford and there was two dogs, one a collie and the other a German Shepard. He knew that they he been known to chase and bite those who rode Motorcycles. As he approached the area he saw the two of them charging after him but my father always carried a round pipe about 18 inches long stuck along side of the saddle bags and was able to hit both dogs. He drove by days later seeing both dog's heads were bandaged up but were not dead and from then on they never chased another machine. Another time he told me he was riding either the Harley or Indian and the front brake cable was broken. The only brake he had as the rear, but remember the clutch was foot driven with a suicide shift. He said he came to a steep hill at a traffic light and when was ready to take off if was an act of God to put both feet on the running boards one holding the brake and the other to push in the clutch simultaneously and shift into gear and let the clutch out, he said he made it but finally fixed the front brake. Another time he come home and forgot to put his kickstand down and it fell on top of him pinning him under the hot bike until George Kuchma known as skeeter heard him yelling and came over and helped him lift it off. He was lucky not to have been burned very bad. My Dad also worked at Jimmy's of Savin Rock in West Haven at the age of 15 for short while. When he got his license he starting riding with his friends to the curb slam on his brakes in the sand and the rear tire would skid to a stop with the bike facing out towards to the street and the rear tire up against the curb and he would get off. The next guy would have to do the same without hitting the bike that just parked. One day it was my Fathers turn, while all the rest were already parked, He came in to do the same but the problem was as he started to skid and there was no sand and skidded straight into the machines in front of him and they all went down like dominos. He said all his friends laughed. He also in the same time frame was heading home in Milford and on _______?__________ St he did not make the turn and would up in the brush in an field and fell. His friends were a little behind him and did not see him go down. They turned around and searched and he was picking up his Bike and on his way out. This would be the same corner that my sister 25 years later would go off the road and hit a tree where there are now homes built. My Dad had to also work hard very because with the death of his mother at the age of 14 they need as much income as possible. Living with his Father and sisters at the Age of 18 he was looking for a full time Job. One day having Breakfast at the Milford Diner my dad was introduced by friends Dave Petro and Joyce Hatrick to a young beautiful woman that he went to school with but
did not really know named Jeannette M. Frawley, My Mother. After a while of conversation than dating my mom had asked if he knew of anyone hiring because she was in need of a job, he said T.E.Y manufacturing they are looking for office personnel. My mom applied at T.E.Y manufacturing on Ford St, Milford which is now known as the City of Milford Public Works Department Garage in 1952.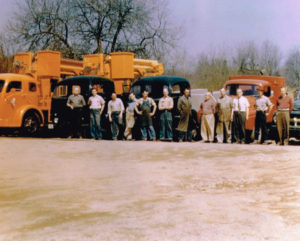 TEY were the first Bucket truck manufacture in the country and put their name together and called it T.E.Y. Manufacturing. This was done by the last letter of the three owners last name. Art HunT, Wayne PiercE and Dave RicheY. High-Ranger was also being designed that this time and become competitors. My Dad told me when he started he believes it was the 13th unit being built when he started working for T.E.Y. in 1950 the same year the started manufacturing what they called the Sky Lift Bucket truck eventually Being know as "Skyworker." The first models were made with steel upper boom and plywood bucket.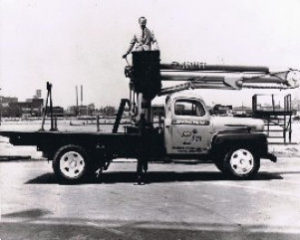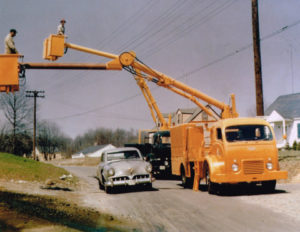 A co-worker named Otto Hoffmiller took my father under his wing and acted like a second Father. Not to many years later Otto Died and Ernest took his son Rick Hoffmiller under his wing and now Ernest became the Father. T.E.Y manufacturing was also the First Manufacturer of the snow making machine and demonstrated the first time in the summer of the late 40s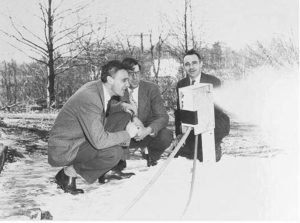 and the first one was sold to a ski mountain in west Mass. They also made a aluminum ski for HEAD manufacturing but did failed after about a year or so on the market. Vince Reinburg another Friend and Engineer would test the ski's and was the New England Down hill champion for 2 straight years back in the 40s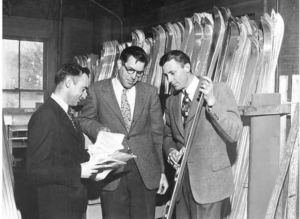 1952
My Mom Jeannette Lived by her self 150 Maple St Milford. My Mom and Dad now worked at T.E.Y Manufacturing together and asking her out and also taking her for a ride on one of his Machines (Motorcycles) over the next few years. After dating steadily for over a year or so, me Dad had to go to Texas on a road trip for a month for work and asked Jeannette to marry her. Three days later they were married and spent the next month on a business trip together. While my Dad worked my Mom spent time on the Texas south shore beaches. My Mother said my Father fainted when they drew blood from his finger to get their marriage license, she thought that was funny for a strong Man. My Mom was now pregnant and will delivered Me, in November of 1956. My Mother was the first woman in the country to go straight up in a Bucket truck the approx age of 20-21 years old
1957 Dad bought a 17ft runabout boat
1958
Then in 1958 my Mom was pregnant for the second time delivering my sister Cheryl in July of 1958 the same year T.E.Y. manufacturing also decided to sell. A company out of Hartford Called Maxwell Emhart purchased the manufacturing plant and moved all it's belonging to Hartford CT.
Over the years my Dad worked there, he also become the road service department repairing any problems which they had spinning wrenches in the Ice, Snow, rain till he could not feel his fingers at times it was so cold but loved every minute of it determined to make it big one day. Bill Fiehn was hired as the first employee. My Dad Decided he was not going to travel to Hartford every day sohe and my Mom had $13.00 to there name and took a chance and he started a small business Called Aerial Lift Repair.
My Mother would then become the bookkeeper and any thing it took in the office at home. They took out loans and went into debt for long periods of time. He had a good close friend Hank Zentick that would loan him cash and hand it to him in a paper bag. Hank loaned Thousands of dollars at an interest rate of 1-1/2 to 2 percent and was better than any bank at that time. He had a toolbox and a pickup truck and from there it was word of mouth. Over the next couple of years struggling to make ends meet business was picking up. Bringing in business from Con Edison, CL&P and Martin J Kelly, Kelly's Tree Service and Intrastate Tree, one of his first Tree companies using Bucket trucks besides Utility companies called Intrastate Tree.
My Mother said if it was not for Martin J Kelly Sr, she believes they would not have made it in business.
1959 1960
1961
He than decided to rent a bay garage from Twin lights auto Body, owned by Charley and Mary Barrelli at the time was located on RT 1 Post Road near Paul's hamburger until they moved to New Haven Ave where they still do business. He figured now that some work was coming in he need to hire his first employee, his name is Bill Fiehn. In 1959 Maxwell
Manufacturing sold to a gentle man named Glen Way in Ohio and then was called Correct Manufacturing know as Skyworker to the country that would later file bankruptcy and go out of business in 1983.
1962
In about 1962 my Dad decided he wanted his own shop, he had the property behind the house located on about 7 –8 acres. He walked back about 400 feet and said this is where I want the building. If you are at Aerial Lift today, it would be the firstBay door to the very left front side. It would have room for 2 bucket trucks at a time, offices up and down stairs and a work bench. He also purchased a fiat Car for Personal use. Once the building was completed it was nonstop work, 24/7. He now became the service center for Sky-workers throughout New England. Now that his new building was completed and going after all the work he could, he needed to hire more employees, Bob Wheeler lived across the street was hired and my uncle Albert also helped out when needed. As time went on there were other employees hired named, Bernie Bolanger, and Lenny Wheeler and than needed a welder Gary Greer and my Aunt and Uncle Lillian and George Romer. One of my Fathers older sisters Lillian and her husband George Romer both started working at Aerial Lift in the early 60s. Lillian doing office work and my Uncle working in the shop doing various Jobs. I can remember working with my Uncle installing, and painting Utility truck bodies for many customers and also installing 12v electric tail gates. Before the Safety and She laws I can remember using a forklift known as a Yale tow-motor. Aerial Lift Repair was now a authorized dealer for Stalh Bodies, Cleveland Ohio. My Father was than introduced to a man Phil C. Guild. Phil was a Manufactures representative and would sell Sky-workers to all the Utilities and Tree service companies and between the two of them they were the best working team, Phil would sell them and my father would service them. Since trimming of the trees was needed my father inquired and became a Miller – Robinson Limb-Lopper Dealer better know today as Fairmont / Greenlee. A man named Jim Robinson one of the owners would travel the country to sell his products to various dealers that he had set up.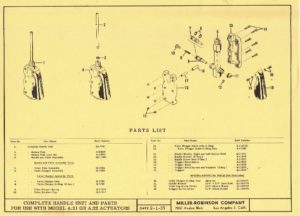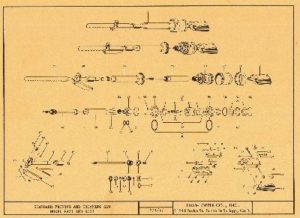 I can remember Jim coming to our house to have Dinner when in the area selling to my dad. At that time and through the early to mid 70s they were all pneumatic, meaning they were air operated. In order to run any of the pruners, recipicating, circular, hedge trimmers and pole chainsaws, they needed a power source and it was called a pony motor. A pony motor was a small horse power gas motor with an air compressor attached to it. The Air lines would run the entire length from the Deck of the Sky-worker through the lower and upper boom to the bucket know as a Crows Nest ( Bucket) where the men would work from was a quick release air coupler mounted and about an 8 ft air line attached to the Tool being used. In 1962 my dad decided to by a new boat which was 25 ft and fiberglass was new to the industry used in both marine and Bucket manufacturing.In 1962 My dad decided he wanted a new boat and was told about a 25 foot fiberglass boat named Bertram. Since Fiberglass was new to the industry and he was brought to Florida where they were manufactured. It was a Deep V Hull style with a hardtop and pop up table and sleeping berths, sink, stove and a Head. It was powered by twin 110 Mercury Marine Inboard Outboard drives. My dad told me when the sales man took him for a ride he was running about 25 knots and sat a glass of champagne on the Motor cushion and took a quick turn around and than in the other direction without it spilling and that sold my dad and purchased on. This was about the same time that Marineland of St. Augustine Florida and my dad were in touch with each other. We visited Florida each year to visit my Grandparents but would stop by Marineland on our way through. My dad has talked to the owners to explain how a Bucket would be much easier to get to different heights of tricks done by the dolphins. The would the first Known Bucket (Sky-Worker) mounted up side down off and open steel Dome structure over the Dolphin pool for public Entertainment. It was used for decades and was discontinued as of about the years 2000. Mineral oil was used that was fish friendly in case of a blown or leaky hose.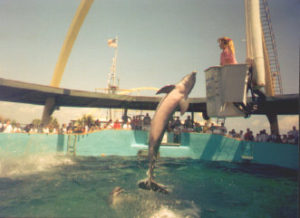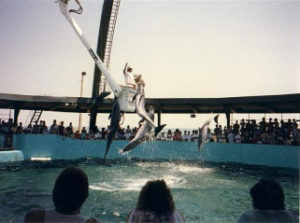 1963
This was the year my Dad taught me to drive his pickup truck with a 4 speed standard transmission. It was a 50′ pickup truck an can remember going from the shop driveway, all stone at that time to a driveway entrance half way down the led directly to our house that let to the Old pare Tree and Outhouse behind our house. I was very short and had a hard tome reaching the pedals and when letting out the clutch the truck started bucking.
1964
1965
In 1965 My Dad decided he wanted a little bigger boat and sold the 25fter and bought a used 31 ft Bertram from the town of Greenwich CT. I was called the Q.E.D. My Dad figured he would keep the name since he said is stood for "Q" cute Ernest DePiero. It was an experimental Boat between Bertram and Mercury and Powered by twin Chevy 409 ci. & Mercury out Drives. It has a top speed of just over 50 MPH making it the fastest boat in all of the Housatonic river where even the coastguard could not keep up. Running wide open with the engine compartment up the air cleaners off and me and Phil Lepage another Aerial Lift employee said to me I don't think you could pour two Coke bottles down those carburetors faster.
One day my family was going out for the day on the boat, as we tried to leave the boat did not seem to be moving so my Dad decided to give it more throttle and as we look back the whole dock is starting to come with us as we forgot to Undo one of the stern lines| and almost pulled the docks away, we all laughed.
In 1969 my dad sold his boat. The Q.E.D was known for many blown fan belts and blown head gaskets. Now that business was going fairly well for my father, Correct was one of the largest bucket truck manufactures in the country beside Asplundh and Hi-Ranger two other manufacturers. This was about the same year that I was taken for a ride on the back of my dads Harley Davidson by Ricky Hoffmiller from our house.
1966 Next Door Neighbor Fred Macri Sr, and Jr and I went to Stratford to become an NRA member
1967
I purchased my first motorcycle, a 80cc Suzuki enduro sold to and taught to ride by Lenny Wheeler who was another employee
1969
My Dad sold the 31 ft Bertram boat. At home one day driving cars and trucks all the time in the shop yard my Dad said lets go to pasquales Pizza on RT 1 about 2 miles from our house and through me the keys to his Chevy Caprice, my first time driving on the road.
1972
This was the same year my Dad and his partner Dave Richey built the first 4C Cable carrier. " Colonial Cable carrier Corp" was a self propelled machine that could carry a 20,000 lb real of cable for over head or under ground. It was used top pull out old cable and wind onto reel or added new cable using a new reel. United Illuminating was interested but skeptical of what it could do. Now I do not have any photos at the moment but it was towed behind a truck than once to a location it would be self p propelled with a front steer wheel that would also raise up and down to undo from the pintal Hook. The UI company asked my dad if he would meet them at a location in Bridgeport CT. My Dad told me he believes they gave him the worse case under ground Pull that they have not been able to remove. The Carrier has a 24000 lbs of pull on its first winch wrap. My dad hooked the below cable and began to pull when it slipped off. The second time he got good Bit on the cable, there was a big bang and the under ground broke free and all the UI personal could not believe what just happen, They put their order in for their first machine.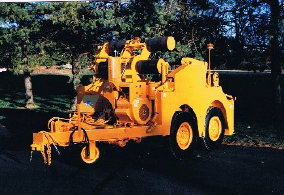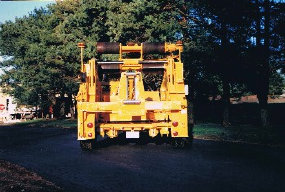 1974
(Sky-worker )Correct manufacturing had been struggling and was letting
its quality start to go. My dad was starting to complain about issues with the construction. As these issue's continued into the early 70s he finally got upset and decided to call Dave Richey, one of the original Designers and owner of T.E.Y to help him design tooling and fixtures to make things right. Sky-worker had sand cast knuckles and were cracking, knuckle and pin sizes were very loose and quality was going down the tubes. Dave designed a fixture to make the first steel knuckle. Dave also put a team of Engineers together to help my Father re-design many other parts throughout the unit they are Vince Reinburg, Ricky Hoffmiller, Maksym Dmytruk where Ricky and Maksym would eventually start a business together call "DFM" ( Design for Maintainability. www.dfmbridgemaster.com/
1975
1976
This was the year I started working for my Dad on a full time basis, being employed part time through High School. Rich
Mitchell, Jack Lebrocq and Bill Finch were other employees starting at the same time. During this time my Dad decided to put Ricky Hoffmiller in charge to run his shop, remember there were 13 total employees including me. The majority of employees did not like the way Ricky was running Aerial Lift Repair complained so they decided to get the local Union in. Since I was the vote they were to challenged we lost and the Union took over. My Parent Divorced.
1977
My Dad was the best to all the guys at the shop, he would let them work on their cars or what ever they wanted on and off
hours after work and weekends, they all had keys to get in. This now all ended and everyone was given only 40 hours a
weeks of work with no over time and no benefits to work in the shop after hours. It took only one year and the entire shop
employees voted the Union OUT. Ricky was no longer in charge and my Dad took over from there.
1979
I decided quit my Dad which I thought was the final time and move to Florida after working and fighting with him for the last 7 years but he had called me to ask me to come back and try one more time which I did.
The Designs for the AL-50 Begin. During the time of the designing, my dad would always debate whether or not a mechanic would be able to get at different areas for easy replacement or service. There were many changes my Dad had the Engineers make so it would be the easiest unit to repair in the field, he being one of the mechanics. Over the beginning years there was much criticism about our product and service ability, Years later I would challenge ALL other manufactures for a REBUILD COMPETITON any where, in any field, anywhere in the country. I was turned down on all counts.
1980
The First 3 of 17 Aerial Lift Model AL-50-C were sold to Bartlett Tree Experts purchased by Jack Dunlap. I can Remember The Napkin style paper my Dad wrote done the first serial numbers on. Talking to Bob Antonio there may be more than 1 unit with the serial number 501 on it. This is unknown. This the same year that my Dad kept hounding me to buy a boat and this was over the last 3 years and since he has not owned one in 11 years and did "Knot" know if you wanted one himself, he wanted me to Buy one first so he could use it. It was a Morning that I had stopped over his Girlfriend Joanne Farrace House where he stayed most of the time. Well He asked one more time and I said YA, OK ill by one. My Dad immediately ran out of the house to buy Boating magazines. As we now looked we were up to 50 feet and I
said slow down. I found and bought a Boat the same size and year of one My Dad had purchased Brand new 1962, a 25ft Bertram bought with the name Lilly May and changed the name to NO FREE RIDES. As many of you must know many moms are still talking about it today. Our Madon Voyage was with my Dad, Jack Dunlap, Bob Antonio and his girl friend Rich Mitchell and my first wife Lesley and a couple others I cannot think of at the moment. We forgot to put the stern plug in when loaded it off the trailer at the Milford Launch Ramp. By the time we got to Spencer's Marina we noticed the water in the bilge.My Dad made me jump over the stern, lay across the out drives now in the cold waters of late April and put my finger in the hole while someone went back to the ramp to get the plug. My Dad tied a line around my waist and tied it to the stern rail so I would not fall in. It was only about 10 Minutes but I was so week being wet, cold and tired but we made it and went for our ride. My Dad asking for a Drink as one motor was over heating. Jack was so tired and fall asleep while we loaded the boat back on the trailer and brought it back to Aerial lift where he woke up and asked where are we. At this time no one had any experience with the internals of the Gear Box, Since they were only in the field for a few years and the first of repairs were just coming back in. I had decided to take a returned Gear Products Gear Box totally apart to see what make it tick. Upon discovering the piston, friction plates and springs now laid out on the floor I found the way to rotate the Aerial
Lift manually. Since it tool pressure to move the piston UP when the springs are holding them down at the same time, I figured out that if the top plate bolts were loosened up evenly with the truck off you could put a rope at the knuckle end and pull the unit around manually. I had then called Gear Products and explained my findings that they did not even know. This was why most other companies had purchase a worm driven gear box because this was not know about a planetary Gear Box. My Dad purchases his own boat, a 35ft Bertram its name was Foolish Frog.
1983
The Year the well know Aerial Lift Knuckle LINK was designen My Father and I were are Tree preservation in White Plains NY on our way back in his 1983 Chevy caprice and he asked me ifI would like to sell. We talked about a salary of $350.00 I told him I make that in a 40 hour week and work 55 to 65 hours a week with 15 to 25 hours of time and a half over time. We did finally work out a starting salary. It was the first year for me to sell Aerial Lifts and to have our first Car Phones. The first one was installed in My Dads car for $4000.00 and one month later I had one installed for $2500.00 Me and Bob Antonio were the first to build and run the New Model Aerial Lift called the "Center Link" known today. I can remember running the upper cylinder with no upper boom attach and it worked like a charm. In order to try to increase business my dad ordered 6 Ford F-700 Medium duty truck chassis from Bridge haven Ford in Milford and 6 Arbortech chip box, saddle box and cab guard to be brought in by flat bed from Wooster Ohio. It took to much time to fit and install the Arbortech packages than have to paint them, plus at times when the paint had runs in it we had to sand and repaint. We were going in the wrong direction so I told my Father that I have a plan. I called up Arbortech and had sent them the chassis specification and the Aerial Lift dimensions needed space behind the truck and had asked John Fremil can you mount and paint them so we can get it as a completed package just leaving us just enough room to mount the 50ft Aerial Lift. It was a great success with a few minor adjustment we were now able to make money on the chassis and body and not do any of the work. This procedure is still used today in the year 2010. My Contact, sales person and friend John Fremil of less than an year had died in a car accident along with his girl friend in October of 1983. Keith Barr who took his place and we became good friends and business associates till I left in 11 years Later and from what I hear is with Reading Body today. This was the same year that High-Ranger and Asplundh manufacturer were on strike.
1984
I started dealing with the Buyer Dean Snider of NPC leasing of Miami Beach the buyer for Tree Preservation, Wilson Tree, Blume and Farrens tree company who was not there very long till Dick McNulty took his place. I was asked to meet him for the first time as I leave the CTPA in Southington Ct at the end of January to meet him at Pier 4 Restaurant in Boston. We were meeting at Anthony's Pier 4 knot knowing that he was there with his boss and other employees. We did not know what each other looked like but Dick had a distinct deep voice that you could not miss, and as I was in the waiting area there is was, that voice I walked over and said Dick Since I was new at spending the type of money on entertaining and the bill was over 700 bucks and I shit but was well worth it and from there we became the best of friends. Over the next 10 years If we were slow I could always call dick and ask for unit orders and he always give me a purchase order at times for as many as 25 at a time since he know he would need them anyway. The process would take time for chassis to arrive with Arbortech bodies but kept our guys busy during the slow period.
1985
1986
1987
1988
1989
In about the year of 1989 Aerial Lift offered a Hydraulic Chipper built on under the chip box so you would not have to have
any in tow. We had sold many to Lucas and Woods Tree services and Maine since 1983. For years we used a 12 " Woodchuck Chipper head driven by a power take off. We had always tried to sell to Asplundh Tree Experts com, the Largest Tree service company in the world. Since they were competitors in manufacturing Bucket Trucks and they had control to supply themselves for any contracts they were interested in our Hydraulic chipper. I have been working on them for some time and are now going to have my chance. My Father could not believe they were even coming even though we were all friends and would see each other at trade shows around the country. I had spent 4 hours with them showing them around the shop and then across town to Mesco's and once were finished and they were getting ready to leave they said to me. " If you answered the first few questions any different then you did we would have left". It was the honesty and they ordered their first one. I talked my dad into running the Pump off the trucks harmonic balancer instead of a transmission mounted power take off. It worked 100% better. Out the side discharge chute the chips measured 86 feet to the furthest chip. I believe Bruce Walgren Jr. was there with me.
1990
Model AL-60/50 was introduced
1991
I married for the second time, my wife Deborah who had been working for Aerial Lift since 1979and ran the entire office and took care of all my Dads personal banking accounts for many years. This was the year that Asplundh had sold out to Altec with a contract to purchase their buckets for 5 years. My Dad up grades to a 42 ft Bertram sport fish Boat – Renamed Foolish Frog Too
1992
1993
I gave my Dad my Notice in Sept to leave the company. We had to many disagreement over different issues always telling me why don't you leave and try it on your own. In September I gave my final notice to leaving Aerial Lift and said I would like till Spring to leave. The following morning he sat at my desk and want to know if I really was leaving, I said yes it is what you have wanted to for some time now and he almost broke down in tears. For the Next five months we did not talk much.
1994
My last day at Aerial Lift was Feb 28, 1994 after being there for 23 years of dedication.
1994 to 2004 The lost years My Father would not talk to me since the day I quit even after writing him many times with many returned envelops and some of my letters never opened. I now would never get the chance to work out our difference's. Just after I had left I had received a call from one of our largest customers Nelson Tree service, Ashland OH and was told we are not going to be buying anymore now that you have left and said, when I left the Honesty Left with it. Wright Tree of IA also stopped for the same reason. There were only 60 units produced that year after many years of over 200 produced. The comment made me feel real good inside knowing I did good. 10 years later My Father Died October 3, 2004
It was late Sunday Morning and I was at my neighbors house having coffee with Dan Duhamel, I than received a call from my
Mom crying and telling me that me my Father may be dead. With tears in my eyes I ran home and drove to my Dads house which was surrounded by many cop cars and people around. I found out that he committed suicide. I was asked by My sister to come down to the lawyers office. My Dad had been in contact with Howard Ecenrod his lawyer almost every day for some time because times time's were real bad Business wise and was on the verge of filing Bankruptcy. I was asked by Howard and my Sister to sign a not contest to the will. I asked one single question, is any other person written in the will to get anything except my sister, Howard replied, no. He said IF I do not sign and I contest the Will my Dads company will Fail immediately because it is almost at the breaking point of bankruptcy and the $150,000.00 Bond that Aerial Lift would have to put down would not make it financially and have to close it doors. I thought about it for a few seconds and I would do the right thing by signing it over to her so the 2 dozen or so left employees which many were my friends will still have a job so I did the right thing. The company and all my Fathers personal assets was left to My sister. I was left with Memories.
2007 Divorsed again
April – 2006 – Oct-2007 my sister finally asked me to work for the company in April 2006 and left in October 2007.
2008
Me and my girlfriend Libby Earle visited the Little town of Cordenon's Italy in October and was able to locate my Dads cousins. I was the first of our ANY of my family to visit there since 1921 when my grandparents left to come to
America through Ellis Island. I was told my Dad always wanted to go visit but never did so I did it for him.
2009
I married Elizabeth "Libby" Earle ( www.sskyle.org )
Libbys Dad is North Americas Youngest Known Sea Captain www.captainguyearle.com (Newfoundland) 1917-1968
************************************************************
Oct. 21, 2010
Feb 1, 2011 Received a call from an Aerial Lift Employee and was told they just had a company meeting and my sister was filing bankruptcy. There shortly after a customer found my number and said i have to get into selling of parts as Altec is going to rape everyone on prices. Started a website called aerialliftofct.com and within a week received cease and decist from my sisters now working with altec because of the use of the name Aerial Lift, I shut it down, tried again with aerialliftrepairsdervices.com and the same again received paperwork so i hired one of the top Copy right and patent attornies in the country, After 8 months of back and forth my layer said to me, IF i use the name Aerial Lift in my domain or business name i could not advertise Aerial Lift BUT Johns garage can advertise he works on Chervy, Ford, Honda and so on and I said BRIAN'S PARTS & SERVICE and the conversation ended.
Mar 2, 2011
Many customers and friends have been contacting me some nervous of where to go now and are ALL disappointed in the fate of Aerial Lift. There will not be any more manufactured, only parts and service will be offered. The last
Manufactured Aerial Lift serial Number is 4370-03-11
I'm told the Last official Day of Business is May 10, 2011
The company will be owned by Nueco division Altec Industries
Spend the next 3 months in training with 5 employees, than move all inventory, fixtures etc to possibly PA
And the Doors of Aerial Lift will be close Permanently.
+++++++++++++++++++++++++++++++++++++++++++++++
"I just wish my sister gave me the chance!!!" To this day in 2021 I receive calls from around the country telling me that Aerial Lift is still the best in its class over all the other manufacturers
Love you Dad, Brian